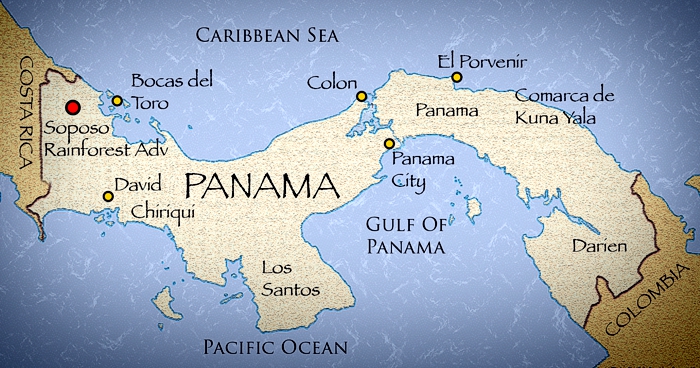 Map of Panama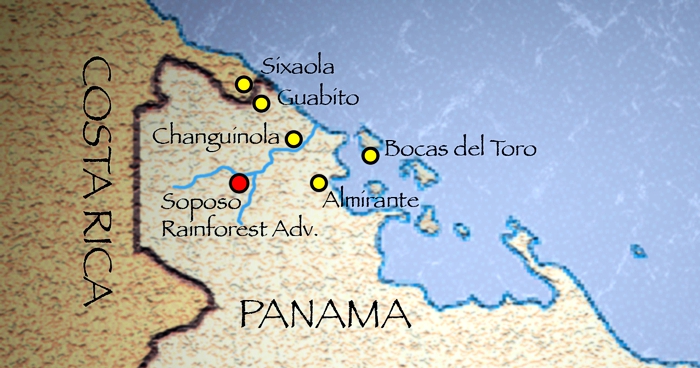 Map of Bocas del Toro Province
Soposo Rainforest Adventures is located in the province of Bocas del Toro in the northwestern corner of Panama, near the border of Costa Rica.
The site of Soposo Rainforest Adventures borders both La Amistad International Park and the proposed Naso comarca (reservation). Although the lush, tropical setting will feel very remote, Soposo Rainforest Adventures is surprisingly accessible. Many travelers on their way from Costa Rica to the beautiful Caribbean islands of Bocas Del Toro will find that Soposo Rainforest Adventures is conveniently located between the two and worthy destination in it's own right.
Coming from Costa Rica, once you cross the border into Bocas Del Toro, Panama, you will need to take a half hour taxi or a bus ride from the border town of Guabito to Changuinola.
From the Bocas islands, you will need to take a water taxi to Almirante (25 min) and a bus ride to Changuinola (45 min).
If you are traveling directly from Panama City, the easiest way to get to Changuinola is a direct domestic flight, which is about an hour and 20 minutes. If you want to see the entire country and have a day to kill, feel free to take a bus from Panama to Changuinola, but be prepared for a 12 hour journey.
Domestic airlines have also started offering direct one hour flights from San Jose, Costa Rica to Changuinola. Again, travel by bus is also possible if you want to see more scenery, but the trip to Changuinola is about 7 hours and the buses are not very comfortable in Costa Rica.
Once in Changuinola or Almirante, you will be met by a friendly and helpful representative of Soposo Rainforest Adventures who will escort you on a half hour taxi ride to the small riverside town of El Silencio where you will then proceed to the headquarters of Soposo Rainforest Adventures.